I'll plead ignorance on this one, but
The Sultan of Swat and The King of Rock & Roll
decided to part this
world on the same day
. In what should be more than a oddity, I think that
Elvis
resonated with the parting of
George Herman Ruth
more than a little bit...
1.
The both defined their respective pursuits.
Ruth did more to save baseball after the Black Sox gambling scandal than any other player. The tremendous home runs, that get bigger with each telling, shaped the
Roarin' Twenties
into a time period of decadence. Great writers such as F.S. Fitzgerald and Ernest Hemingway, great fighters, Jack Dempsey and Tunney, and
great Jazz
took the place of great leaders that America did not have.
Ruth was above them all in print.
Elvis shaped a new fad into something bigger: Rock & Roll. He didn't invent it; but borrowed from many African-American influences, country and folk era people. Elvis pave a way for The Beatles, The Stones, Eric Clapton, Bob Dylan, Jim Hendrix, if only tangentially. (Sorry no time spell check.)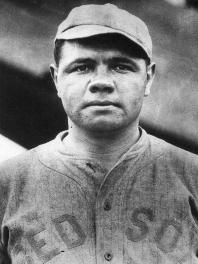 2. Their behavior was more outlandish than nearly anyone else. Two men that could throw outlandish parties, or behave as immorally as possible, yet for most people, we remember them as being good-natured, full of life and lifestyle, unafraid of connection, yet never really connected to any one, even their "best friends."
Babe Ruth's story has been told over and over in countless biographies, taking angles to define the man, yet never really defining his persona correctly. He's know for his after hours escapades, sexual appetites and gluttony, and great home runs for kids in hospitals... He loved the card game bridge and seem to play like he did life - on his own bid. But we escape real knowledge of the man..his childhood is foggy and unclear. The Babe left us in the late 1940's, before a TV could really capture the essence of the man's thoughts...simple as they often were.
Elvis seem to disappear too fast. To die of an overdose - yet live on in the imaginations and impersonations of millions - seems eerily like the Babe. Those closest to THE KING never really looked out for his best interests and could do little to control him. Whether shooting out TV sets, eating fried banana sandwiches, or bringing around the latest vixen, Elvis was as big and as small as all of us. His shows in Vegas were spectacles - filled with faux drama and big, bright lights - and we loved them, even knowing we preferred the hip-shaking young man on the stage of some local gin joint in a hillbilly town.
3. We remember in the same breath as our childhood fantasies. For most kids from 1950's to the 1970's, Ruth and Elvis played out our wildest dreams. Either to become a legendary baseball player (or athlete) or a legendary musician (performer.) Ruth and Elvis embodied the characteristics of our dreams, the overwhelming talent, the fast and free rules of living, the ideal of being free to make our path whatever we desired. As we grow older, those things are unavailable due to life and the laws of society. Unfortunately, for some, they can never outgrow this, and are punished accordingly...
Nevertheless, we find an Elvis or a Babe wandering around in our hearts. They may not be always right about things, or have the morality to make the right choice, but deep down they are good in ways not defineable to the average man...that has given up their dreams or forgot the ambition to succeed.
Long LIVE the King and Sultan in our hearts!